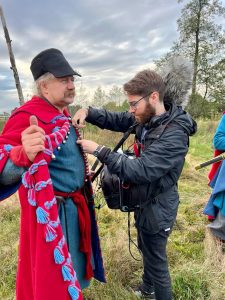 I have been recording sound for TV and film since 2010, shooting in various European countries, as well as the USA and Mexico, across a wide range of productions, including TV Factual, corporate videos, drama and Outside Broadcast.
I have experience working in both Ireland and the UK. Since 2022 I am based in London but maintain links with many production companies in Ireland.
I have significant experience in TV Factual programming and my work has been broadcast on every major channel in both the UK and Ireland. In the UK, this includes 'Dating In The Dark' for ITV2; 'The One Show' for BBC One; and 'Stage School' for E4. In Ireland, I have recorded sound on Ireland's Fittest Families' for RTÉ One and two series of 'Gogglebox Ireland' for Virgin Media, among many other productions.
I have recorded sound on corporate videos and commercials for clients such as Cadbury's, Ikea, Barclays, Unilever and many more. I have worked with many of leading production companies in Ireland and the UK, including Vista, Mother London, One Two Four in the UK, and DV8 Productions and Moose in Ireland.
I have significant drama experience, both as sound recordist and boom operator. I have recorded sound on 2 feature films, 'Out of Here', directed by Donal Foreman for Stalker Films and 'You're Ugly Too', directed by Mark Noonan for Savage Films.
Since 2017, I have expanded into Outside Broadcast, working with NEP, TVM and Riverside Television. I have worked as a Sound Assistant and Sound Operator on productions such as Ploughing Championship Live for RTÉ One and Ireland's Got Talent for TV3.
I have my own sound equipment, equipping me for most productions. View the Equipment page to see a comprehensive kit list.
I have a full driving license and transport.
I have an iVisa for travel to the United States of America, valid until 2028.
I trained at the National Film School in Ireland, graduating in 2009 with a BA (Hons) in Film and Television Production.
To find out more about my experience, view my CV here.